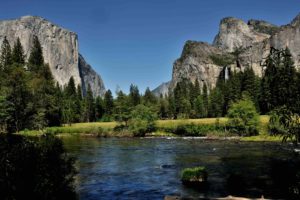 If you are looking for great travel destinations other than the iconic sights, perhaps you may want to consider these stunning national parks in your next vacation trips.
Yosemite National Park
The Yosemite National Park is one of the must-see national parks that you should include in your travel destinations. You will enjoy the picturesque sceneries of soaring Sequoias, huge waterfalls, snowy peaks, and crystal clear lakes.
There is plenty of stunning scenery to take in like Glacier Point and Tunnel View. Hiking and exploring in places like the Half Dome and Mariposa Grove is also full of fun. And for a change of activity, there is the Merced river where you can swim, fish, and go rafting.
Banff National Park
Alberta's grand Canadian Rockies is home to Banff National Park. A tried and tested destination that is simply remarkable in the winter courtesy of huge mountains, massive glaciers, and snowfields. All perfect for the ski lovers seeking the perfect winter destination.
And if skiing is not your thing, this national park is still worth the travel. Who can resist the charms of hot springs, dog sledding, moose sightings, and the Northern Lights?
Kruger National Park
And for the thrill-seeking travellers looking for the ultimate adventure, set your sights on Kruger National Park. This 7,000 plus square mile nature reserve in South Africa is one of the world's top safari destinations.
It is home to a diverse collection of large mammals not found in any other African game reserve. Enjoy a thrilling walk through the bush or the excitement of a Big Five game drive by day and by night, retire to the comforts of your vacation suite.